BN14144 Low Voltage Enclosure
 

Structured Wiring and Indoor Service Cabinet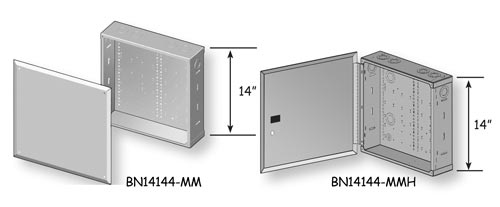 Specification: BN14144-MM (Door/Lid) and BN14144-MMH (Hinged Door)
Low Voltage Enclosure Structured Wiring and Indoor Service Cabinet
14-1/4″ Wide x 14″ Tall x 4″ Deep
Weight: 8 lbs.
This enclosure is made of a 18-gauge zinc-coated fabricated steel lid and a 20-gauge fabricated steel body. Both are powder coated with a white finish. The finished box is completely enclosed with knockouts on the top and bottom to the inside of the finished wall and a door/lid that is fastened with 4 zinc-coated Phillips sheet metal screws. The interior back features a universal mounting pattern that accepts most major brands of communication modules. The BN14144 is UL listed (UL1863).
The enclosure mounts prior to drywall between 16″ center studs using depth marks on the side of the body. This interior, flush- mount enclosure is specifically designed as a home-run point for communication, data and/or cable audio/video feeds. This size cabinet is used for homes, townhouses, and apartments.