BN14324W-SM Low Voltage Enclosure
Exterior Surface Mounted Enclosure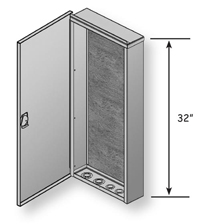 Specification: BN14324W-SM Low Voltage Enclosure
Exterior Surface Mounted Enclosure
14″ Wide x 32″ Tall x 4″ Deep
Weight: 34 lbs.

This enclosure is made of 16-gauge zinc-coated fabricated steel with a hinged door. Both are powder coated with a tan finish. This surface mounted service box is fully enclose.The door is embossed with the word "Communication". It also includes a 1/2″ plywood backboard for easy mounting of low-voltage utility equipment and a 4-position #4-14 wire ground bar mounted inside. The BN14324W-SM is UL listed (UL1863) and designed to NEMA 3R Specifications. The reinforced hinged door fastens with a standard 7/16″ box wrench.
This enclosure is nailed or screwed to and existing surface. This enclosure includes 2 bottom knockouts 1″ to 2″ (for 3/4″ t0 1-3/4″ conduit) and 3 bottom knockouts 1″ to 1-1/2″ (for 3/4″ to 1-1/4″ conduit). This exterior surface mounted enclosure is specifically designed to house communication / utility/security/home audio-video wiring demarcation points.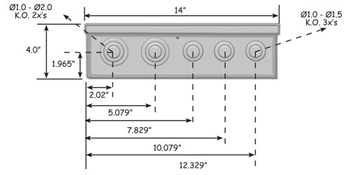 . . .