UP-B10 Can Wrench
The Original BN Can Wrench
UP-B10: This handy tool has both telecom and datacom applications. It is actually two tools in one to save space in your tool pouch. One side is a standard 7/16″ (black finish) hex socket tool used to open and close most telecommunication boxes and enclosures (telco cans and demarcation products). The other side is a 3/8″ hex (silver finish) socket used to tighten standard binding post terminals. Both sockets are a full 1-1/4″ (32mm) deep and thin walled to fit easily into tight areas. The tool shaft (yellow) is made of a high-impact molded plastic for exceptionally long service life. The individual sockets are both made of specially heat-treated alloy steel. Another great tool from Benner-Nawman, Inc.
UP-B36 – Wire Slitter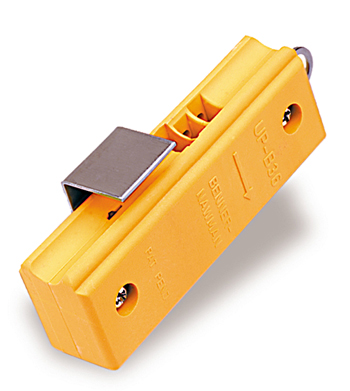 Wire Slitter
The UP-B36 Slitter is a small hand tool used for slitting 1, 2, and 5-pair buried or overhead drop-wire and for sheathing up to 25-pair communication cable. This sturdy slitter is only 4″ long and attaches conveniently onto a utility belt. There are no exposed blades eliminating the risk of an injury or accident. This tool takes interchangeable and replaceable blades to assure a sharp cut every time. The tool can also be used for fiber optics.